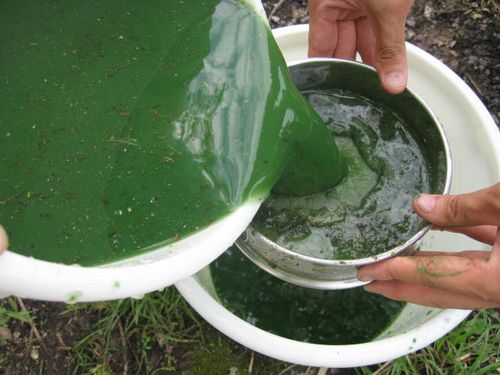 Copyright Central Research Institute of Electric Power Industry
As a project funded under NEDO's "Grant for Industrial Technology Research Program", NEDO and the Central Research Institute of Electric Power Industry (CRIEPI) in Japan announced on March 17, 2010, that Hideki Kanda, Chief Scientist of CRIEPI, successfully developed a method to extract a high yield of "green crude oil" from blue-green algae at room temperature using liquefied dimethyl ether (DME).
Green crude oil is a general term for oily substances in the cells of microalgae, and there has been some ongoing trial utilization of the substance as an alternative to petroleum for fuel. Traditional methods to extract green crude oil pose some problems because of their complex steps, such as drying, breaking cell walls, and using and removing toxic solvents, which require considerable energy.
The method was developed to overcome these problems by taking advantage of liquefied DME's unique ability to mix with water and oil. Because it can dewater blue-green algae and extract oils from it concurrently at room temperature, the amount of energy required for dewatering and drying can be reduced drastically when compared to conventional methods. In addition, with no organic solvents required for extraction, the process has the potential to be a low-cost and environment-friendly method of extraction. CRIEPI successfully extracted over 60 times more green crude oil (based on the dry blue-green algae weight) in its experiments than traditional methods.
The practical application of this liquefied DME extraction process needs further basic experiments using various algae and development of the technology that can concentrate green crude oil in DME. CRIEPI plans to conduct further experiments and improve this new method.
Successful Extraction of "Green Crude Oil" from Blue-Green Algae
http://criepi.denken.or.jp/en/activities/pressrelease/
2010/03_17.html
http://criepi.denken.or.jp/en/activities/pressrelease/
2010/03_17.pdf