Visit www.pipeflow.co.uk today and enter the promotion code 257241 before clicking on 'Checkout' to get 15% off, and get an EXTRA second license when you also buy Annual Support!

This opportunity expires on July 25th 2010 so take action now!

Don't miss this one-time chance to save on Pipe Flow Expert licensing, plus
GET AN EXTRA SECOND LICENSE worth £1295 (approx $2000 USD)
when you buy PipeFlow Expert and Annual Support together.

Professional 'Fluid Flow' engineers choose Pipe Flow Expert because they want a program that will provide instant and accurate results, is easy-to-use and which they will be able to use immediately.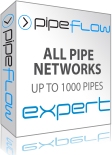 Pipe Flow Expert 2010 v5.12 Major Update

This is the new 2010 release of our premier application for designing and analyzing pipe systems. Easily visualize and calculate the flows and pressures at all points in your pipe system.




Version 5.12 is a major release that includes the following updates:

a) Amazing PDF Report Generation, with customized data selections
b) Support for Cv and Kv Flow Coefficients modeling
c) Enlarged Drawing Area for large scale systems
d) Enhanced Pipe Database with 15 new schedules & 180 new rows of data
e) Larger Fluid Database with over 400 fluid data points
f) Increased ease-of-use and productivity enhancements

General features also include:
Isometric 3D Drawing capabilities with smart labels and 3D symbols
An Enhanced Calculation Engine that will solve complex piping designs
An Intuitive User Interface that is best-in-class & easy to use
Modeling of up to 1000 nodes and 1000 pipes.
A Fluid Database with common liquid and gas data
A Pipe Database with common pipe materials and sizes
A Fittings Database with common valve and fitting data

Try Pipe Flow Expert 2010
Click on the following download link and then
Choose 'Run' to automatically install the program.


Get a second license code (at no extra charge) when you purchase PipeFlow Expert plus Annual Support on or before July 25th 2010.

Simply Buy your first PipeFlow Expert license (Single User via download) and Buy Annual Support and then email us at info@pipeflow.co.uk with your purchase token and we will email back a second license code (worth £1295).

Note: Purchases of PipeFlow Expert on USB are still eligible for the discount however the USB version already comes with a 2nd license for a downloaded copy, so we do not provide a further download license in this case but you will still save money.

This opportunity is limited to selected individuals & organizations, and is
available until 25th July 2010.

All purchases come with a 30 day refund guarantee - we only want happy customers and we're confident that our Pipe Flow Expert program provides exceptional value - see what our existing users think: Genuine Testimonials


Kind Regards

David Gardiner
PipeFlow.co.uk