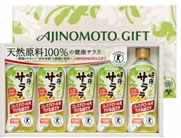 Copyright Ajinomoto Co.
Ajinomoto Co., a world-renowned food products manufacturer, started selling items packaged in cardboard boxes made of empty fruit bunch (EFB) paper, it announced on October 8, 2009. It marks the first OPS recycled consumer packaging in Japan.
EFB pulp is manufactured by mixing EFB fiber and used paper. Unlike other non-wood paper products, using EFB allows a year-round stable production and supply of paper. Empty fruit bunch are normally discarded as industrial waste at local mill factories after palm fruits are taken for oil production. Using this unexploited natural resource to make packaging material is therefore expected to reduce industrial waste and contribute to the effective use of natural resources.

EFB paper is used for lid boxes holding bottles of Ajinomoto's Kenko Salala oil, a low cholesterol cooking oil and a popular gift season item. The use of EFB material also aims to reduce the environmental impact of winter gift-wrapping that often consumes a large amount of packaging. The company plans to add more EFB-packaged items in the future.
Posted: 2010/02/01 06:00:15 AM