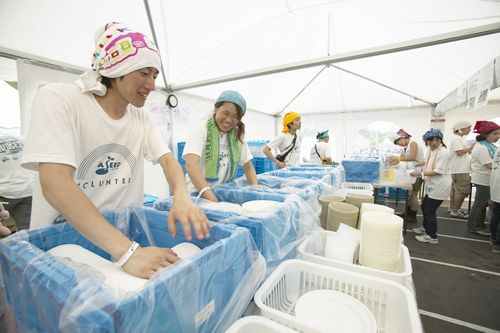 Copyright international environmental NGO "A SEED JAPAN"

The "Zero-Waste Navigation," program conducted by international environmental NGO "A SEED JAPAN," has long been active at concerts and other outdoor events held in Japan. The NGO was founded in 1991 mainly by Japanese people in their twenties who felt responsible for the well-being of future generations of Japanese. The program is a participatory-style of environmental activity at outdoor events, getting people to pick up trash and garbage in order to reduce the amount thrown away. The key idea is not to bring in volunteers to do the work, but to get the actual participants at the events involved in cleaning up.
Triggered by the sight of enormous quantities of rubbish left behind at events, this approach was started in 1994, dealing with separating trash, distributing trash bags, recovery and recycling of resources, and a system to reuse dishes. As 70 percent of rubbish at these events is disposable dishes, the organizers of the program decided to lend out reusable dishes.
In 2008, all of the efforts helped to reduce 5 tons trash, but thousands of reusable dishes went missing, which was seen as a big problem. Organizers are therefore encouraging people to bring own cups and plates from now on.
Since music festivals and other outdoor events are very popular during the summer in Japan, the group has high expectations for the Zero-Waste Navigation approach. It was used at six events during the summer of 2009, and will be continued this autumn and later.
[Youth Action] A SEED JAPAN
http://www.japanfs.org/en/pages/029220.html
Statement Adopted at World Youth Forum Toward Toyako Summit (Related JFS article)
http://www.japanfs.org/en/pages/027148.html
[Newsletter] Universities and Students Tackling Environmental Issues No.18 (February 2004)
http://www.japanfs.org/en/mailmagazine/newsletter/pages/
027776.html